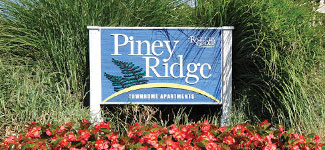 COVID-19 Updates
Community Tours
Our team continues to offer tours in a variety of formats to suit your needs and level of comfort. Self-guided tours and live FaceTime or Zoom tours are available and can be scheduled by calling our leasing office, by using the "Schedule a Tour" link here on our website, or by emailing us at leasing@pineyridgeapts.com.
Service Requests
Our service team is responding to all incoming service requests, with priority placed on emergency service requests. All other service tickets are taken in the order they are received.

When entering homes, our team is wearing face masks, foot coverings, and gloves. Surfaces are disinfected before and after work.
Amenities
Our amenities remain closed at this time. However, we are working on plans to safely reopen our amenities as quickly as possible once it has been deemed safe to do so. Piney Ridge is following guidelines from local, state, and federal agencies with regards to reopening.
Cleaning Procedures
Our team has always worked diligently to create a clean community for our residents. We recognize that now more than ever this is a priority for our residents, prospects, vendors, and staff. Regular and thorough cleaning is being performed throughout Piney Ridge.