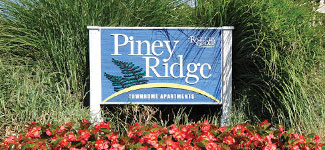 Piney Ridge Apartments
Rachuba
Mission:
Building value through positive relationships and outstanding service.
Meet Our Team

Tracey Martin,CPM, ARM
Regional Property Manager
Tracey joined the Rachuba organization in 2008. She has over 29 years' experience in the multifamily industry serving in various positions. She is currently the Manager for Piney Ridge Apartments and the Regional Manager for Rachuba Management. Tracey holds two designations through Institute of Real Estate Management, Accredited Residential Manager (ARM) and Certified Property Manager (CPM). She is passionate about education and serves on the education committee for the Maryland Multi-Housing Association. Family is extremely important to her and she is most proud of her three amazing children that she raised as a single parent. She enjoys relaxing trips to the beach and is looking forward to traveling and exploring new places.
Leasing Team

Carol Wallace
Leasing Consultant
Carol has been with Piney Ridge Apartments for nine years. Prior to that, she worked at the Thomas O'Farrell Youth Center in the Residential Treatment Facility. One of Carol's favorite things about her position is connecting with people from all over the world - some who move here temporarily and others who are here long term. She believes there is so much to learn from meeting new people and really enjoys their interesting stories.
Maintenance Team

Joe Ebberts,CAMT
Maintenance Supervisor
Joe is the Maintenance Supervisor at Piney Ridge and has been with the team for the past five years. Prior to Piney Ridge, Joe worked for Rachuba Management at Chadwick Manor, also for five years. He is a Certified Apartment Maintenance Technician (CAMT) and is happiest when he's cooking on his grill.

Mike Crotsley,CAMT
Maintenance Technician
Mike has been a part of the maintenance team at Piney Ridge for nearly five years and worked at Pickwick East for three and a half years prior to that. When not at work he enjoys spending time with his lovely daughters and grandchild, as well as his three dogs, one cat and one bird.

Jose started working at Piney Ridge two years ago. He previously worked at Home Depot. His family includes three kids, two grandkids and a dog named Benji. He loves to spend time outdoors and making upgrades and repairs on his home. Jose is a huge Redskins fan and appreciates his co-workers, saying "We are a team!"
Jose Hernandez, CAMT
Maintenance
Technician